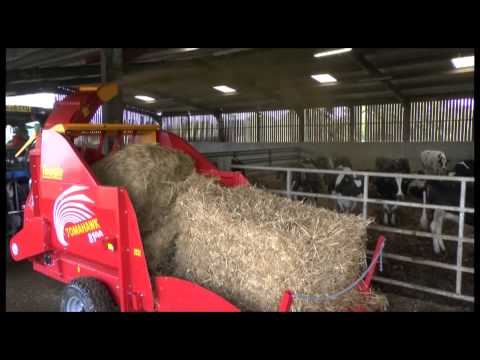 Teagle 8100 & 8500 Bale Processor
Teagle Tomahawk 8100 & 8500 Straw Blower/Chopper, Silage Feeder. Shred and Blow Straw for Bedding Feed Wet Clamp/Pit Silage, Bales Silage/Hay/Haylage. Features of the Teagle 8100 & 8500Bale Processor ✅ Chain Drive: (No Belts) All the Teagle Tomahawk range is chain driven to allow feeding of wet and dry silage. ✅ Bluetooth Controls: User friendly and trouble free. No awkward communication cables to the machine. ✅ 8 Fan Paddles: Allows unrivaled blowing distances for straw and an even distribution of silage. ✅ Replaceable Fan Paddles: (Not Welded) Bolt on fan paddles allows quick and easy replacement. ✅ Wide Body Design: To allow the largest bales process inside the machine with out hanging up on the sides. ✅ Cross Beater Knives: A combination of straight and bend knife sections on the cross-beater shred the bale evenly. An option to double the quantity of knives for a finer shred is also available on all models. ✅ Pre-selector Gear Change: Standard on all machines, a 2 speed gearbox with a pre-selector gear change also standard. ✅ Low Horsepower requirement ✅ 280 degree Sloping Chute Swivel to allow easier access to all shed layouts. Teagle Machinery have been manufacturing Bale Processors for almost 40 years and with almost 20 different models to choose from we have a machine to suit your needs. Call Frank Byrne Today for more information. Republic of Ireland: (087) 1948404 Northern Ireland 00353 87 1948404 0% Finance packages available on all models.
Legal
DoneDeal.ie is not responsible for the advertised goods. It is illegal to use the contact information for commercial purposes.
Tips and Guides
Be informed, read our advice if you get unwanted calls