Stephen
Co. Tipperary
Verified Private Seller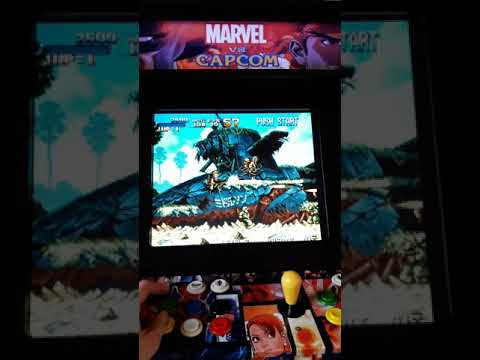 Arcade Machine/ Games Console
59 days
595 views
Co. Tipperary
****Taking Orders now**** YouTube Link to this type of Product- https://youtu.be/ICWyadJ72qg - Newly built Brand New Bartop Arcade Machine. - Nintendo V Sega, Marvel V Capcom, Batman V Joker, Street Fighter II, Pac-man, Bubble Bobble, Ghost 'n' Ghoblins (new), Star Wars (new) or WWF wrestlefest (new) Decal Themes available. - Pandora box saga DX special with 5,000 retro arcade games ready to be played. - Built in Search engine makes it easy to find games on this system. - Saves High Scores. - High quality American style multi coloured buttons and Sanwa Joysticks. - 17 inch Dell monitor. - 2 built in Speakers. - 550mm width * 600mm height * 400mm depth. - High quality Vinyl Stickers. - LED Lighting Marquee piece. - Perfect Christmas present that will keep the family playing together for hours or ideal for a Mancave. - Blast from the past Arcade games such as Golden Axe 1, 2 and 3, Puzzle Bubble 1-4, Bobble Bubble 1 and 2, Pang, Kung Fu Master, Donkey Kong 1, 2 and 3, Striker, Super Mario, Mortal Kombat 1-4, Pac- Man, Streets of Rage 1, 2 ane 3, All the Street Fighter arcade games, Metal Slug 1-6, 1944, R-Type, The Simpsons, WWF Superstars, Teenage Mutant Ninja Turtles, SideKicks 1-4, Tekken 1-3 and Thousands more. - Full Pandora box games List- https://www.arcadecity.co.uk/games-list-of-the-5000-in-1-classic-arcade-machine-pandoras-box-dx-hd-special/ - This is a must- see as we only make the best products. No wifi or internet needed, just straight old-school fun. Really sociable for the kids as its side by side two player gaming. All Queries are Welcome.
Stephen
Co. Tipperary
Verified Private Seller
View All Ads
email Verified
phone Verified
identity Verified
Avg. Response Rate
90%
Location
Co. Tipperary
Donedealing since
2011
Active Ads
2
Lifetime Ads
23
Help build a safer community
Our commitment towards building trust
Learn More
Legal
DoneDeal.ie is not responsible for the advertised goods. It is illegal to use the contact information for commercial purposes.
Stephen
Co. Tipperary
Verified Private Seller
Verified:
email
phone
identity
Tips and Guides
Be informed, read our advice if you get unwanted calls