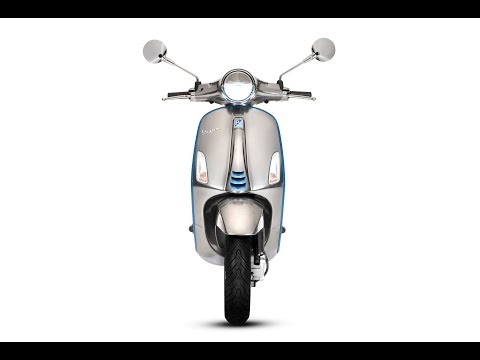 Vespa Elettrica @ Megabikes
All New Vespa Elettrica's Now in Stock @ Megabikes! Demo model available to try from our Wexford St store, T+C's apply - Email rob@megabikes.ie for more info. I AM THE POWER - Stylish and smart, silent with zero emissions. This in Vespa Elettrica. Pick-up is exciting, the ride easy and enjoyable. Up to 100 km of autonomy thanks to the lithium-ion battery complete with recharge system during deceleration phases. The beating heart of Vespa Elettrica is a silent, technologically advanced power unit. ELECTRIC MOBILITY - Electric mobility will never be the same. Introducing Vespa Elettrica, Stylishly interpreting the desire for a new relationship between vehicle, environment and technology. ALWAYS CONNECTED - The 4.3 inch colour digital dashboard provides riding parameters and offers journey statistics designed to help improve riding style. Full connectivity and dedicated app transform the display into an extension of the smartphone: The rider can in fact, answer calls view message notifications, active voice commands and thanks to the app the last position of the vehicle are saved. 2 models available - 45km/h model €7,795 - Can be driven with AM licence & some older B (Car) licences, (If you where issued the category B full licence prior to 21 October 2006 that also covers you to ride mopeds and therefore are entitled to the moped category AM provided the category B licence has not expired for more than 10 years. 70km/h model €8,199 - Can be driven on minimum A1 licence (Also A2 , A) For more licence info please visit NDLS.ie https://www.ndls.ie/licence-categories.html For more information please contact Megabikes on 01-4784200 or email rob@megabikes.ie
I came to Dublin from France on the ferry. I am going on a bike tour starting tonight and need an oil change which I could not get in France. This shop was booked up but because I'm traveling Robert, a tall and impressive young man, did my oil change right away. I cannot thank and recommend them enough. He also did a thorough inspection of all systems including suspension. When I drove away I realized he had lubricated major pivot points in the bike that nobody in 31,000 kilometers had ever lubricated. Like the kickstand. I always thought you needed to force it down and force it up. You don't. It's now so easy it's fun and it brings a smile to my face when I use it because it's always a rare pleasure when you meet someone who really knows what he's doing. Robert also talked to me about oil technology. I made an appointment for a few weeks from now to have my chain and sprockets replaced. I've ridden the bike through the Sahara and most of the mountain passes in Europe on and off road and they are due to be changed. The bike is a Yamaha Tenere T700. Its a perfect bike for European countries.
Was in the market for a bike a few months ago and emailed 3 different dealerships. Rob from Megabikes was the only one who got back to me within a reasonable time and provided the information I asked for. Communication was great; I was able to put down a deposit for a secondhand bike only the day after they put it up. As a complete beginner I wasn't sure what to expect, but I found the staff knowledgable and respectful and they really go out of their way to help you. Thanks a mill!
Always great service and even got a urgent job done on the last day before the Christmas holidays, great place for bike parts and repairs
Legal
DoneDeal.ie is not responsible for the advertised goods. It is illegal to use the contact information for commercial purposes.
Tips and Guides
Be informed, read our advice if you get unwanted calls