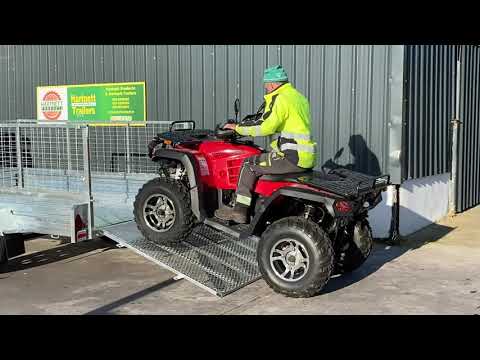 Single Axle Car Trailers for Sale
Hartnett Trailers, Cork 021-7337081. 7ft x 4ft Single Axle: €1850 complete with with mesh sides, ramp & spare wheel. 7ft x 5ft Single Axle: €1895 complete with with mesh sides, ramp & spare wheel. 8ft x 5ft Single Axle: €1995 complete with with mesh sides, ramp & spare wheel. PRICES INCLUDE VAT. All trailers are FULLY ROAD SAFETY CERTIFIED and come with steel checkered floor, jockey wheel, lockable Bradley hitch, LED lights, Small back door, Plug holder, Extra side lights and VIN (Vehicle Identification Number) Specifications: Max load capacity: 750kg (no need for trailer licence) The A-Frame Drawbar makes reversing your trailer much easier. Chequered Steel Floor for strength and long term durability. Steel mudguards with re-inforcers (useful for getting in and out of trailer from sides) Full Size Proper Road Wheels 165/70R13. Durable tyres will cope with all conditions. 165/70R13" Full Regulation Lighting: Emark rear lamps, fog lamp, position lamps, 2 red triangle reflectors along with extra side lights for safety. Heavy Duty Axles for complete safety 50mmx50mmx4mm. Brand of hitch may vary depending on availability. Industry Standard 3 Leaf Springs 50x7mm will absorb road shocks and provide a smooth and noiseless ride even at high speeds. They give excellent suspension to your trailer which reduces wear and tear. Hot dipped galvanized trailer. Heavy duty Bradley hitch that can be locked when trailer is both on and off towbar. (Lock not included in price but available to buy for €25). Front gate and tailgate open Sides 300mm (1ft) high Chassis 70x50x2.75mm 12 month warranty on all products. We offer a full range of spare parts and after sales service. E11 Road Approved and CE Approved (Ireland & Europe). Certificate of Conformity with all trailers. Hartnett Trailers is a member of REPAK's End of Life Tyres Scheme. So when you buy your tyres from us, we immediately pay for the recycling of those tyres when they come to the end of their life. Check out our website WWW.HARTNETT-PRODUCTS to get full details of single axle car trailers for sale and twin axle trailers for sale. Call to see our trailer display Firmount, Donoughmore, Co Cork. Trailer sales, car trailer, jeep trailer, double axle trailer, single axle trailer.
Location
Donoughmore, Cork
Excellent service and products. Great sales team and service team. Calm, relaxed and super obliging. Made sure everything was 100% before I left. I purchased an 8 x 5 single axle Harnett trailer - amazing quality with lots of extras. The best price in the country for such quality. Brought it 200km on a mixture back roads and motorway. Easy tow and extremely well balanced.
I have a 9 ton log splitter from Hartnetts for about 10 years never had any problems with it just a few small things in that few years and the sorted them out very fast it's a brilliant machine made by brilliant people you cant go wrong here
Got a 12 ton electric log splitter and its a great machine. Small error happened that the wheels weren't on the pallet and they arrived 2 days after contacting them. 1st class service and great machines.
Legal
DoneDeal.ie is not responsible for the advertised goods. It is illegal to use the contact information for commercial purposes.
Tips and Guides
Be informed, read our advice if you get unwanted calls