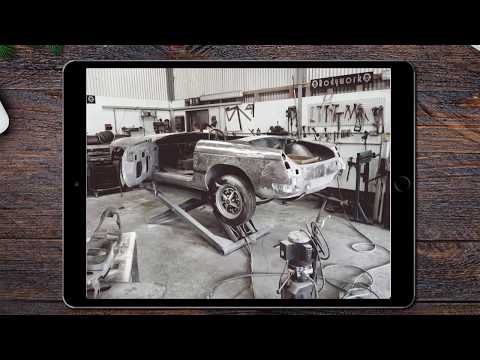 Classic Restoration and Servicing
63 days
2,675 views
Milltown Malbay, Clare
We'll be staying open pals, continuing to work on restoring and servicing cars, but we won't be taking any visitors to the workshop until this all blows over. Just because we're not taking visitors doesn't mean we won't be accepting your cars! Transport can be arranged for everyone outside of our 5km radius. Most of our radius is actually in the Atlantic, but sure look. We can cross that bridge when we come to it. This won't be too long, I'm sure you have a lot of internet scrolling to do, so you can find out everything you need to know on lyonsgarages dot com. You can also find the very latest photos on our social media accounts - on Instagram and Facebook, you'll just have to search for Lyons Garages - simples! There's plenty of reading on our website; advice, tips, values, and we also have a Garage Blog which adds a little je ne sais quoi. As you've probably had a lot of free time to think about your own classic car, or you're thinking of getting one and having it turned into a work of art, feel free to get in touch! We'll get the ball rolling and get you on the prestigious Lyons Garages list. Make sure you disinfect the phone beforehand though, you never know. We do have some cars in need of restoration for sale as well (MGBs, Minis, Beetles, etc), but if you have something in particular in mind give us a shout. Or phone if it's windy. Also, if you are thinking of selling a valuable classic car and don't know its true value, we'll make you a cheap offer and take it off your hands. We're pretty sound like that. And finally, let us say that as the world's greatest sports car restoration team here in the Malibu of Ireland, we welcome your feedback. We don't take it, but we welcome it all the same. Stay safe, wear a mask, wash your hands, and we'll chat soon. (Just to note - Photo #1 is a mockup to show what black LED lights will look like on our project MGB).
View Our Shop
email Verified
phone Verified
identity Verified
Avg. Response Rate
70%
Location
Clare
Donedealing since
2011
Active Ads
2
Lifetime Ads
21
Help build a safer community
Our commitment towards building trust
Learn More
Legal
DoneDeal.ie is not responsible for the advertised goods. It is illegal to use the contact information for commercial purposes.
Verified:
email
phone
identity
Tips and Guides
Be informed, read our advice if you get unwanted calls